Stainless Steel Benches Melbourne
Premium quality commercial benches Melbourne
Our stainless steel benches are made from food-safe Grade 304 and are robust, versatile, and high quality. They are perfect for use in commercial kitchens, restaurants, canteens, cafes and other food service areas.
Our express delivery service promises a quick turnaround, so you won't face delays getting your stainless steel benches up and running as quickly as possible. You can also pick them up from our Melbourne showroom, based in Bundoora.
Stainless Express Melbourne Head Office
2 Mirra Crt Bundoora, VIC 3083
Opening Hours: Monday to Friday 8.30 am to 5:00 pm
Popular Stainless Steel Benches in Melbourne
The stainless steel benches offered by Stainless Steel Express exhibit the following features
Corrosion-free

Lightweight sinks

Optimal depth

Acid-resistant

Contemporary designs

High durability with grade A construction

Quick drainage system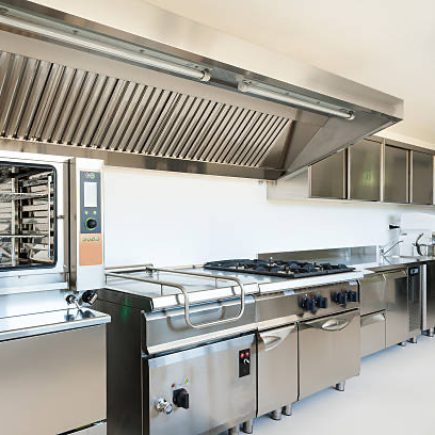 Types of stainless steel benches we supply for commercial kitchens, cafes and restaurants
We supply a diverse range of outlets with our stainless steel restaurant benches. Perfect for busy kitchens, we stock everything from flat island benches to dirty utility sinks. We can also cater for all your kitchen needs, with our high-quality stainless steel kitchen benches, which are available in a range of lengths. Bench options are available with or without wheels for optimum flexibility in your kitchen.
Flat island benches: Bench Length - 900mm, 1200 mm, 1500, & 1800 mm
Practical and reliable, this great value bench is available in four lengths from 900 mm up to 1800mm. An essential item in any busy kitchen, this stainless steel bench comes with a sturdy shelf for additional storage.
Single & double sink benches: Bench Length - 900mm, 1200 mm, 1500 mm, 1800 mm & 2400mm
Our solid, reliable stainless steel sink benches with sinks, offer ample space for piling up dirty dishes or stacking dry ones. Double sink benches offer a particularly efficient system, allowing you to wash and rinse dishes simultaneously, making this the complete solution for effective kitchen logistics.
Larger flat benches: 914 mm deep.
Our larger flat benches are made from the highest quality food-grade stainless steel and are 914mm deep. These sturdy and hard-wearing benches are ideal for use in teaching kitchens as well as in high-capacity commercial kitchens.
Mobile stainless steel benches: Bench Length - 900mm, 1200 mm, 1500, & 1800 mm:
The mobile stainless steel bench collection offers the ultimate flexibility, without compromising on quality. Versatile and portable, these benches function perfectly around the kitchen with lockable wheels to provide you with the security and reassurance that they function just as well as any of our static stainless steel benches. They are available in a range of lengths from 900mm up to 1800mm.
Premium Stainless Steel Benches with splashback: Bench Length - 900mm, 1200 mm, 1500 mm, & 1800 mm – Extra Strong
The extra strong 150mm splashback on these premium quality benches, protects your kitchen walls and paintwork from wear and tear. Guard against splashes and spills with these durable stainless steel benches, all of which offer a built-in splashback.
Pipe shelves: 30mm wide
Perfect for use in a dedicated storage room or incorporated into your main kitchen design, our durable and resilient pipe shelves are available in four standard lengths, all with a width of 300mm. Made from fine quality grade 304 stainless steel, these shelves are food-grade quality and suitable for kitchen storage.
Flat sheet shelves
These heavy-duty shelves are ideal for storing pots, pans and other kitchen utensils. Constructed from food-grade stainless steel, these durable and solid shelves are a useful and practical addition to any commercial or training kitchen. The shelves are supplied with tube brackets and an upstand to give you multiple fitting options.
Corner bench
Ensure that there is no wasted space in your commercial kitchen with these high-quality corner benches. Designed to fit perfectly with our other modular benches, shelves and sink units, these stainless steel corner benches are constructed from high quality, food-grade stainless steel.
Dirty utility sink
Designed to withstand the rigours of commercial kitchen cleaning routines, these stainless steel bench sinks are tough and easy to clean. With high resistance against corrosion and rust, these durable and hygienic sinks are a good fit for all kinds of professional kitchens.
Laboratory benches - Grade 304 or 316 Acid resistant Benches with Sinks
Found in many of the most important research facilities around Australia, our specially designed laboratory benches stand up to prolonged and persistent usage. The sturdy commercial stainless steel is resistant to corrosion and rust, meaning these durable benches represent great value and are a reliable way to equip your lab.
Benchtech - Grade 304 Stainless Steel Benches with Sinks
The vast BenchTech range of stainless steel benches offer some of the most durable and practical furniture for a variety of commercial settings. Made from food-grade 304 steel, the range includes corrosion-resistant flat island benches, corner benches, benches with splashbacks, single and double sink benches as well as a variety of mobile benches.
---
FAQ's
Which stainless steel type is food-grade?
Food grade stainless steel is deemed safe for the storage and preparation of food, which is essential for your commercial kitchen! The most popular food-grade stainless steel is type 304. 304 grade stainless steel is also food grade, and additionally, it is acid resistant – making it the toughest, most durable option for your kitchen. All of our stainless steel benches and shelves are made from grade 304, as specified in the product descriptions.
Do your workbenches come with wheels?
Our BenchTech mobile benches come with wheels. These are available in a range of sizes.
Do you supply custom benches?
We usually work with clients to find you an optimum solution from our extensive range of modular benches. If you are not able to identify a product that is the correct size for your kitchen, give our customer care experts a call and they may be able to help.
Can my stainless steel benches be left outside?
Our resilient stainless steel benches can be left outside, but additional care and upkeep are needed. If the bench is used outside, particularly in wet, salty, or humid conditions, it should be regularly wiped down. This helps to prevent dust, dirt and moisture from building up on the surface which can cause the bench to rust. A strong stainless steel cleaner should be routinely used to keep benches in excellent condition.
Do you supply individual benchtops?
We are unfortunately unable to supply individual benchtops. However, we can supply benches flat packed, so you may still find it is more economical to use one of our benches compared to the price of having a top custom made.
Are the benches and sinks considered heavy duty?
Our commercial benches and sinks that are labelled as heavy-duty are suitable for high traffic and usage.
Why are you so much cheaper than your competitors?
We want to bring you great quality products at great prices. This means we focus on keeping our own overhead costs as low as possible so we can reflect these savings in our list prices. As stainless steel fabricators, we cut out the middlemen and sell direct, which keeps costs down.
Do you have stainless steel benches with all stainless undershelves and legs?
Yes, we have a range of stainless steel benches that offer solid stainless steel undershelves, castors and legs. Check out the individual product specifications, as in some instances a pipe shelf can be supplied in lieu if requested.
Are stainless steel sinks supplied with sink plugs?
Yes. We offer a diverse range of sink benches, made from 1.2mm grade 304 stainless steel. All of these benches are equipped with a sink plug.
Can you make up a bench to a specific size?
We typically work with clients to provide an optimum solution from amongst our expansive range of modular benches. If you are struggling to find the right kind of product in the correct size for your kitchen, get in touch with our customer care experts who may be able to help.
Where are we located?
Visit Our offices to view the largest range of stainless steel sinks, tables, benches and more.
Address
Stainless Express Head office: Melbourne
2 Mirra Crt Bundoora, VIC 3083


Email: contact@stainlessexpress.com


Opening Hours:
Monday to Friday
8.30am to 5:00pm


---
General FAQ's
How do I pay?
Our primary payment method is online, where you can pay with a paypal, credit card or debit card. You can also get in touch with us to pay by phone, or make a payment in person at our showroom in Bundoora, Melbourne. Additionally, we can provide an invoice with bank details for direct payments.
Will you hold a price for me?
Get in touch with our helpful customer support team to discuss pricing. Fluctuations in the value of the Australian dollar and the cost of raw materials may impact prices. We will seek to work with clients to hold prices where possible – however, we reserve the right to change prices at any time.
Will you store items for me until I am ready?
Yes. You will be asked for a deposit and to agree on a date that the product will be picked up. Speak to our friendly customer support team for more information.
Can I return an item?
Accidents and errors can occasionally happen. If you receive a damaged product, get in touch with one of our helpful team members who will work with you to rectify the issue. If you have problems with the fit or functionality of a product, get in touch within 7 days of purchase and we will be happy to discuss this with you.
What warranties do you have on your lovely items?
We warranty all our items for one year, as a guarantee against manufacturing faults. This warranty does not cover misuse or deliberate damage to the kitchen benches but includes normal wear and tear a bench would be exposed to in a kitchen environment.
Delivery made easy
We offer express delivery with our dedicated courier services. The time it takes for your item to reach you will depend on the size and the number of items you have ordered, and where in Australia you are located. Our friendly customer services team will be happy to talk you through all the delivery options available. Click & Collect: Click and collect is available from Melbourne address only.