BenchTech 300mm Wall Shelf - 1500mm
Benchtech Stainless Steel 300mm Wide Wall Shelf - 1500mm Long
Our stainless-steel benches made from Grade 304 which is highly heat resistant, are suitable for a full commercial kitchen fit out and are the most hygienic choice for canteens, commercial kitchens, restaurants, and cafes.
Click today,
Express

delivered!
Food Grade Stainless Steel Ideal for Kitchen Use
This BenchTech 300mm Wall Shelf is a 1500mm long wall shelf that can be fixed to the wall wherever it is convenient. Manufactured from 1.2mm thick stainless steel in commercial-grade 304 steel with a satin finish, the BenchTech 300mm Wall Shelf is durable and easy to clean, making it the perfect choice for use in kitchens, canteens, cafés, and restaurants.
This wall shelf is available in four sizes and can be combined with other stainless steel kitchen shelves and benches to create smart, tidy, and efficient storage for food and accessories.
Very sturdy benches suitable for harsh environments
The stainless-steel surfaces of this BenchTech wall shelf are non-porous, and resistant to high temperatures and common chemicals, which means they're easy to wipe clean in seconds and won't be damaged by daily kitchen spills and splashes. Made from durable stainless steel, this shelf is resistant to viruses, bacteria, and fungi, offering excellent hygiene in settings where hygiene is paramount, like kitchens and dining areas. It's also built to withstand heavy traffic and daily use, coming with stainless steel wall brackets and S.S. 'C Channel' reinforcement for added endurance.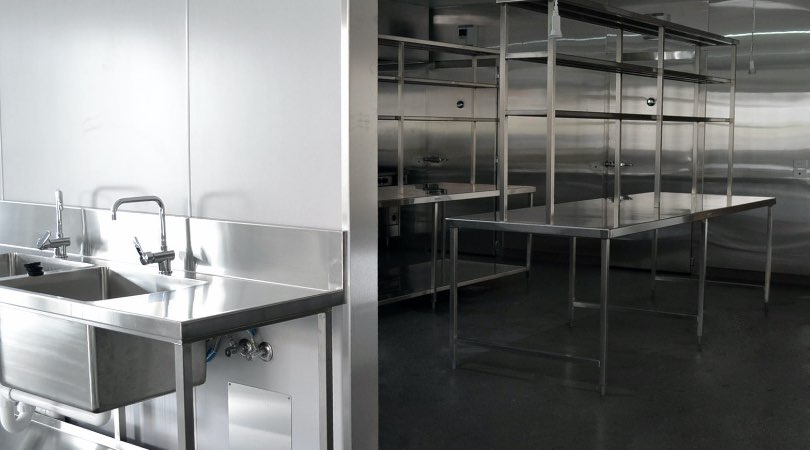 Specifications
At Stainless Express, we stock a huge range of durable, eco-friendly stainless-steel products for commercial and industrial settings. The BenchTech 300mm Wall Shelf offers sturdy, hygienic storage for kitchens, restaurants, and canteens.
Stainless Steel 300mm Wide Wall Shelf - 1500mm Long
Made from 304 grade S.S
Satin Finish
1.2mm Thick S.S.
S.S. 'C Channel' Reinforcement
Supplied with stainless wall brackets
Easy to clean and maintain
Suits wide range of project types
Sizes:
Made with 1.2mm thick stainless steel, the dimensions of this shelf are 300mm depth x 1500mm length with 330mm brackets.
The BenchTech 300mm wall shelf is also available in three other lengths: 1200mm, 1500mm, and 1800mm.
Included in the box
1x BenchTech 300mm Wall Shelf 1500m
2x stainless steel brackets
1x Allen key and screws
1x assembly instructions
Environmentally Friendly:
All of our stainless-steel products are 100% recyclable and contain around 60% recycled material, making this BenchTech 300ml Wall Shelf the perfect choice for planet-conscious buyers.
Stainless Express BenchTech 300mm Wall Shelf - 1500mm offers multiple benefits.
Satin Finish
Adjustable Feet Height
Resistant to corrosion
Manufactured from 304 grade S.S complete with a 2.0mm corrosion resistant zinc plated steel substrate.
Easy to clean and maintain
Sturdy and heavy-duty
Long product life
Suitable for a wide range of project types
Shipping & Returns
Stainless Express delivers premium quality products Australia Wide. Please ensure you enter the correct delivery address to avoid any inconvenience.
Have you received a damaged product? We take great care with packing and dispatching our orders. However, accidents or errors can happen occasionally. Please inspect the received goods thoroughly. In case you receive a damaged product, report to us immediately on on Live Chat or email contact@stainlessexpress.com. One of our helpful team members will get back to you as soon as possible.
Not happy with our product? At Stainless Express, we understand that after purchasing you may realise the item doesn't fit properly.
Chat with one of our friendly service team on Live Chat or email contact@stainlessexpress.com within 7 days of purchase to discuss further.
Frequently Asked Questions
Do you supply plumbing fixtures?
Yes, accessories including tapware and other commercial grade plumbing fixtures can be supplied on request.
How long does it take to get the product delivered?
We offer express delivery with our courier services. Delivery times may be subject to size and quantity of items and delivery location. Chat to our friendly customer service team to find out more.