Commercial Stainless Steel Sinks
Made from Grade 304 or Grade 316 acid resistant stainless steel, these stainless steel sinks such as commercial Kitchen sinks, Laboratory Sinks are hygenic, durable and easy to maintain. They can be used in a variety of applications including hospitals and medical facilities as well as restaurants and commercial kitchens.
Browse our commercial sinks and stainless steel sinks products below.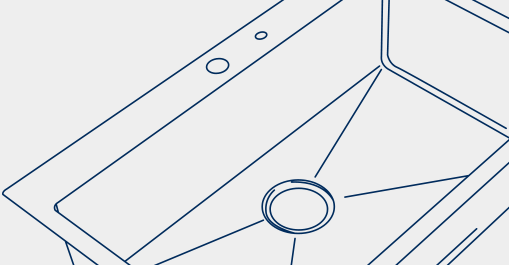 Our store specialises in providing the following commercial sinks:
When you need a reliable commercial sink, StainlessExpress has you covered! We offer a comprehensive selection of the highest quality stainless steel commercial sinks. Whether you're looking for a kitchen sink, laboratory sink, a sink with brackets and legs, or a conical flushing sink, our selection is sure to meet your needs. With so many different options, you can be sure to find the perfect commercial sink that fits your specific needs.
Sinks with Brackets and Legs
These sinks have a large 46L tub capacity where the cleaning process can be carried out effortlessly. The sinks are supported with brackets and front legs to ensure safe operational usage. Extended splashbacks and tapware are optional.
Conical Flushing Sinks
These types of sinks are commonly used in aged care and medical facilities. They can be embedded inside benchtops and can also be customised by our experts to fit in any client- specified shape.
Twin End Sinks
Twin-end sinks offer large double bowls and corrugated drainers, making them ideal for commercial kitchen applications. The large storage space available in these sinks allows for ease in handling busy kitchen operations.
Floor Mounted Cleaner Sinks
Floor Mounted Cleaner Sinks, also known as janitorial or mop sinks, are designed to dump dirty mop water into the drainage area. The floor sinks that we offer at Stainless Express are made from premium quality grade 304 or 316 stainless steel, ensuring strength and durability.
FAQs:
What is a commercial grade sink?
FA commercial grade sink is a type of stainless steel sink that is designed to stand up to the rigors of a busy kitchen. Commonly used in restaurants, hotels, and other commercial food service establishments, these sinks are constructed from high-grade stainless steel with either a brushed finish or an enameled coating for added durability and resistance to corrosion. Commercial grade sinks come equipped with various accessories, such as cutting boards and strainers, built-in trash cans, integrated hand sanitizer dispensers and single- or double-handle faucets.
What kind of sink is used in commercial kitchens?
FIn most commercial kitchens, the type of sink that is required is typically a three-compartment stainless steel sink. These sinks are designed to be used for washing, rinsing, and sanitizing different items such as dishes, utensils, pots, pans, and other kitchen tools. A three-compartment stainless steel sink is both durable and easy to clean, making it an ideal choice for any commercial kitchen setting.
How do I choose the right commercial sink?
FWhen choosing a commercial sink, it is important to consider the type of food preparation that will be done in the kitchen. Additionally, you should also take into account the size and shape of the sink as well as its durability and installation requirements. In terms of design, there are various options available including drop-in sinks, undermount sinks, single bowl designs and double bowl designs. In order to make sure your chosen sink can stand up to heavy use over time and meet all relevant health codes, you should select one made from high quality stainless steel material with either a brushed finish or enameled coating for added protection against corrosion.
What grade of stainless is commercial sinks made out of?
FMost commercial sinks are made from grade 304 stainless steel, which is the most common grade of stainless steel used for home and commercial applications. It provides good corrosion resistance, durability, and heat resistance. Grade 316 stainless steel is also increasingly being used in sinks due to its superior corrosion-resistance compared with grade 304.
What are the benefits of using a commercial grade sink?
FThe benefits of using a commercial grade sink include increased durability, ease of cleaning, and safety. Commercial grade sinks are built with thicker material than residential ones and are resistant to harsh chemicals like bleach. They also have more options for installation such as different types of drainage systems and can accommodate larger items that need to be washed during food preparation. Additionally, they have higher back edges which help contain splashes from outside the sink basin. Overall, commercial grade sinks provide a much more hygienic environment when used in restaurants or other food service establishments.
Are there any safety concerns when using a commercial sink?
FYes, there are potential safety concerns when using a commercial sink. Potential risks include contamination from chest-level handles on faucets, inadequate drainage due to improper installation or design of the sink bowl, and increased risk of slips and falls when standing on wet surfaces. It is important to choose a commercial sink that meets standards for safety and sanitation in order to ensure a safe working environment.