Our stainless steel troughs are great for use in schools, hospitals and medical facilities. They are easy to clean and provide added safety in high traffic areas.
Browse our drinking troughs and hand wash trough products below.
Some of the common trough types that we offer in our store are:
Drinking Troughs
Our drinking troughs are pre-plumbed with safety rubber mouthpiece bubblers and are ideal for educational institutions and child care projects. The tap style can be chosen from Push Button, Cam or Lever, depending on your preference.
Hand Wash Troughs
Stainless Express offers hand wash troughs that are Watermark and WELS certified and also offer sufficient space to clean your hands without water splashing. The troughs come with a complete 50mm waste outlet and heavy-duty wall brackets.
Foot Wash Troughs
Clean your feet comfortably using our high-quality stainless steel built foot wash trough. We have multiple options for this product in our store. You can also purchase optional tapware and stainless steel stools for a more convenient operation.
Art Troughs
Boost your creativity with our ergonomically designed troughs for art lovers. Our art troughs come with rounded internal corners that ensure reliable cleaning of brushes and hands. The products are available in both inset and wall-mounted styles.
Surgeon's Scrub Troughs
Designed specifically for medical facilities, our Surgeon's Scrub Troughs are one of our finest products that surgeons can use for their washing needs. The troughs are double skinned for extra protection and can add additional frames and cabinets for extra storage.
Explore our collection of Stainless Express troughs and get the one which best suits your needs. We can also customise the troughs as per your specifications.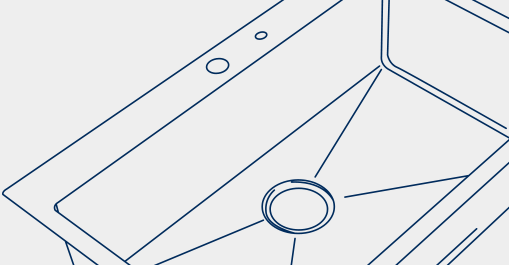 What are WaterMark Certified Products?
The WaterMark certification procedure assures that plumbing installations - such as drinking troughs, hand wash troughs, taps, toilets and pipelines - are safe and dependable for use in accordance with industry standards. This ensures that all installations are safe and reliable for use in plumbing and drainage installations, in the interest of community health and safety. Plumbing and drainage items must receive a WaterMark certification in order to be used in Australia. For products that are used in new construction or in renovations, the WaterMark certification is legally compulsory, and failing to comply with this requirement can result in severe penalties.
Similarly, the WELS scheme (Water Efficiency Labelling and Standards) is an Australian urban water conservation programme designed to inform customers about water efficiency at the point of sale. Showers, faucets, and toilets are the bathroom products required to comply with WELS under this plan. Watch out for a star rating that resembles the energy ratings you often see. Since water is Australia's most valuable resource, and water scarcity is a major issue faced by many countries across the globe, the demand for water-efficient products has increased significantly in recent years. As such, we all have a duty to use and consume water responsibly. The WELS scheme indicates a product's water efficiency rating by ranking it between one and six stars, with six stars being the highest level of water efficiency. The WELS scheme covers a wide range of products, including showers, taps, toilets, dishwashers, and washing machines.
The Benefits of Choosing Water-Efficient Drinking Troughs
Water-Efficient Drinking Troughs are Cost Effective.
Simply put, water-efficient drinking troughs use less water, and that means there's less money you have to spend on your water bills (which can be a make-or-break difference for rural landowners and farmers). Such a thing can impact the whole community too; lessening a building's overall water footprint can be extremely beneficial in locations that have risks of drought or scarce water supplies in general.
Water-Efficient Drinking Troughs are Labour Effective
Drinking troughs that use less water may require less upkeep and cleaning than conventional watering systems, which decreases your labour requirements, as well as the subsequent maintenance costs.
Water-Efficient Drinking Troughs are Good for the Environment
Water-efficient drinking troughs can help minimise the overall environmental effect of farming and other rural land activities by consuming less water. Such environmentally-friendly land management techniques can benefit the local ecosystem, as well as many other environmental objectives.
Benefits of Buying Troughs from Stainless Express
Buying a trough from Stainless Express is like buying a sword from Hattori Hanzo; you're getting a high-quality product that's strong, durable, and crafted by a highly regarded master. Stainless Express troughs are also hygienic, environmentally friendly, and cost efficient.
What are our different types of troughs?
Troughs come in all shapes and sizes. Some of the more common varieties include…
Drinking Troughs are probably what most people imagine when they think of the word 'trough'. Drinking troughs are still very prevalent, and are still commonly installed in communal areas such as schools.
Hand Wash Troughs are also still very ubiquitous. Designed to accommodate multiple users at once, they are most commonly used in industries where thorough hygiene is of utmost importance, such as hospitals, laboratories, hospitality, and food processing plants.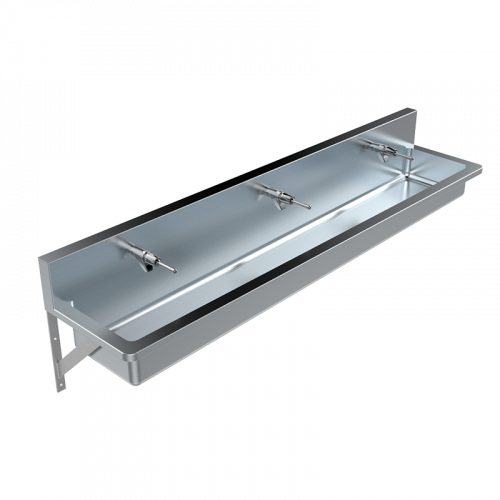 The PWD PrePlumbed Hand Wash Trough (1200mm 3 TW-0007 Wall Brackets) comes with timed flow taps that are set to run for six seconds per activation, in order to prevent water wastage.
FREQUENTLY ASKED QUESTIONS
Temporary Trough vs. Permanent Water Trough - Which is Best?
The answer for this very much boils down to your personal specifications and unique requirements as to why (and where) you need a water trough. Do keep in mind that permanent troughs are typically more robust and longer lasting, whereas temporary troughs are more adaptable and portable. So it really all comes down to what you're after, where you want it, and how long you want it there for.
How to Choose the Right Drinking Trough for a School?
When selecting a water trough for a school, it's crucial to factor into details such as the number of students, their ages (the latter hopefully giving you some rough indication of the students' average height). Additionally, picking a trough that is simple to maintain and clean is very important, especially when it comes to kids, as it is well documented that kids are little germ machines.
How do I Care for My Stainless Steel Trough?
All that's needed to clean a stainless steel trough is a little soap, a little water, and a little elbow-grease. But honestly, you don't even need that much elbow grease, stainless steel is blissfully easy to clean. Abrasive cleaners or instruments that could scratch the surface should be avoided.
What are Stainless Express' Most Popular Drinking Troughs?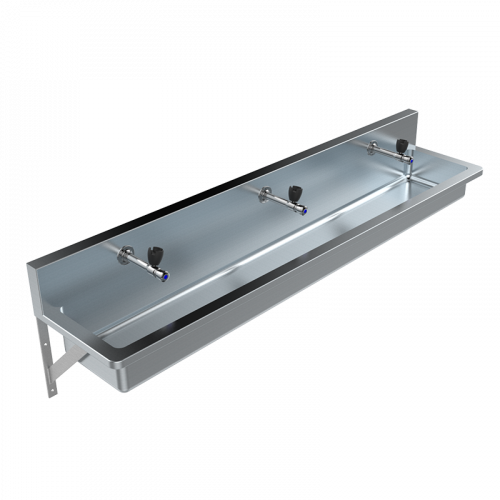 The PWD Preplumbed Drinking Trough (1200mm 3 TW-DL90 Wall Brackets) comes complete with a choice of Watermark and WELS certified drinking bubblers pre-installed, and an optional lever activated bottle filler tap. A hob in the rear splashback allows for the pre-installed plumbing to be concealed and resistant to vandalism.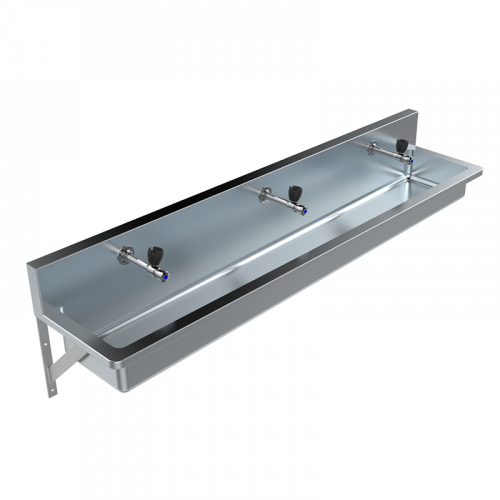 The PWD Preplumbed Drinking Trough (1800mm 4 TW-DL90 Wall Brackets) is another popular option. Like the 1200mm, the 1800mm has fully welded, rounded corners both internally and externally, which ensures easy cleaning and provides added safety in high traffic areas. Water efficient drink bubblers feature bacteria and sunlight resistant rubber compound mouth pieces for additional safety in the event users are bumped whilst drinking.
Conclusion
Here at Stainless Express, we offer a wide variety of high quality stainless steel products; besides drinking troughs, we also offer sinks, basins, benches & shelves, urinals & toilets, and more.
Visit our website to browse their full selection of goods and services, or get in touch with our staff directly to start your stainless steel journey. Easy!